Use the State settings to filter by state, and the Category to filter based on the type of mission.

Event Navigation
Good morning friends and family;
Attached is a flyer announcing the Aug. 24 benefit for Dan's wife, Karen, and their son, at Castle of Knights in Chicopee. Along with a live band and munchies, there will be a raffle of donated items and a 50/50 raffle. If you know of anyone who would like to donate an item, or you have a new item you would like to donate for the raffle, please email me back.
Karen and her friends are also making memorial bracelets, which will be on sale at the benefit, but you can order them now and have mailed to you. See below for more info.
And please pass the word to your friends, time is short and we hope to fill the house!
Thanks
Ken and Lorrie Willette
TICKETS WILL BE SOLD AT THE DOOR 5$. FORWARD THIS FLYER TO EVERYONE YOU KNOW.
Also bracelets will be available at The Knights of Columbus also 5$. Any personalizing of the bracelets will have to be pre-made so please if you want a personal bracelet contact patriciaj13@yahoo.com or Lilgreenberetta@aol.com . Include name, address, and what name you want. Pictures of the bracelets can be seen at Pictures: http://i171.photobucket.com/albums/u292/Patriciaj13/Dan2.jpg
Thank you so much for your support hope to see you and all of your friends and family at the Knights.
Sincerely,
Karen Newsome
Show your support for family members and friends in the armed services by wearing a super cool bracelet with their name on it.Yes, personalization is free. You may also choose from the words like liberty, freedom, or a branch of the service.
Bracelets:
Are stretchy and comfy
Price is $5 each.
The more letters you have the less Red, White and Blue you get. Please allow for creative variations.
ALL profits go to SSG Daniel A. Newsome memorial fund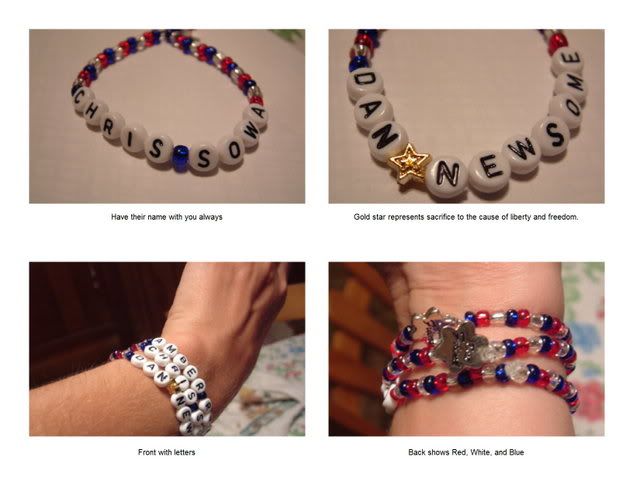 PS. Be sure to say thank you to SSG. Dan Newsome (and his family) by buying a bracelet with his name on it.
P.PS. SSG Dan Newsome Braclets will be available at the benefit held on August 24 at The Knights of Columbus on Memorial Drive in Chicopee….. It will be a great time and all proceeds will go to their one year old son. Please tell everyone you know – all are welcome. Please let's fill this place up… Dan was and will always be a hero – He lost his life fighting for our country, i feel the least we can do is get people together to honor him and benefit the son he has left behind. Please keep this night free. Let's give back to this fallen soldier who has given the ultimate sacrifice for us.
Email me at Patriciaj13@yahoo.com or lilgreenberetta@aol.com
Checks can made payable to either the S.S.G. Daniel A. Newsome Memorial Fund or Mrs. Daniel A. Newsome.For a direct donation(without bracelet) please send checks to the Daniel A. Newsome Memorial Fund , c/o the Polish National Credit Union, 46 Main St., Chicopee, MA 01020 Please be sure to pass this on and repost/forward.Shipping charges may apply for the bracelets.


Thank you for Supporting Our Troops!
Get a sneak peek of the all-new AOL.com.